"Willingness to change is a strength, even if it means plunging part of the company into total confusion for a while."
– Jack Welch
Today the Honorable Bruce Rauner, Governor of the state of Illinois, visited Alan B. Shepard Middle School in our District! The Governor is on a tour of the state visiting schools, businesses and communities as part of his messaging and visioning in his first 90 days in office. In Deerfield we represent one of the Governor's hometown school districts. He attended grade school and part of jr. high school in our district. It is an honor to host the state's chief executive officer as we showcase the excellence of an award winning public school district. Illinois has been in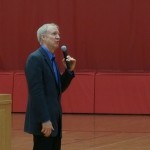 business since 1818 and the Deerfield public schools have been educating students since 1847 – our histories are long and deep in terms of the American story. We have experienced ups, downs, and "in betweens". Right now Illinois is at a critical point in history and public education is at the crossroads and often in the cross hairs. Our Governor supports strong education and strong economic growth. Just as DPS109 is in a period of transformational change and growth, so too is our state. The Governor's staff was outstanding to work with – those with whom we interacted reflect the best and brightest and each member of the staff was highly professional, courteous, respectful and professional!
In DPS109, each day we aim to Engage, Inspire, Empower each and every student each and every day. With the Governor's visit we were able to share real life examples of outstanding local governance and local financial planning. The Board of Education's stewardship of the public trust and public finances is leading to world class education transforming education for all of our children. Today we were able to share new science labs that reflect our recent world class facilities improvements. These major renovations to the learning spaces in science and STEM are a reality as a direct result of prudent fiscal management of the Board of Education through responsible and innovative use of general state aid. In addition, it is a source of great pride that we were also able to share amazing students and teachers with the highest office holder in our great state. The Governor was wonderful and quite personable in answering student questions, engaging in real and meaningful dialogue and for spending quality time seeing how his hometown school district has grown and changed in the years since he last attended. The sixth grade students were honored to have had the chance to shake the Governor's hand and to take a group picture and more importantly, to have had their questions answered by a man who many years ago played in the band in the same space where we interacted today – in the Shepard gym!
We chose our new science/STEM labs for his visit as they showcase our Board's look forward to the future. One of the reasons that last year's Superintendent's Task Force for Middle Level Education's STEM subcommittee recommended upgrading all 12 middle school science classroom/labs was in support of our nation and state's economic growth. The future for our students is in technology, software, engineering, collaboration, communication, critical thinking, collaboration, as well as a focus on excellence and competitiveness. As the home to major corporate headquarters for science and technology companies like Takeda,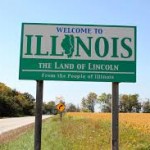 Siemens, Walgreens, and others, it's incumbent upon us to provide world class educational opportunities in our public school district. This year we welcomed scientific expertise in science fair judging as well as in model lesson instruction from local experts from Takeda and Siemens. In addition, we have a focus on girls in STEM, also launched from our community engagement process, and we have leading female role models in our community leading girls in STEM clubs at our K-5 schools during the day! For these and other reasons we were proud and happy and motivated to welcome a visit from our state's chief executive.
His visit to our district was a "big deal" to us and our school was shining like it was the opening day! Governor Rauner's staff members were outstanding to work with and while at Shepard, he toured learning spaces, met with students and with district and community leaders. The learning spaces he toured were the new science/STEM classroom/labs, renewable energy modules, and learning spaces built last summer and serving as prototype labs for this summer's construction of eight new science labs at Caruso and Shepard. In the picture at the right, Governor Rauner, Principal Filippi, Board President Schwartz, and I are discussing the solar panels and the electricity-producing wind turbines outside of the science labs.
In addition to visiting the world class science labs and addressing all sixth grade students, Governor Rauner also spent some time with the district executive leadership team, school principals and elected local officials including members of the Board of Education. The video clip below showing me, the Governor and the president of our school board provides a snapshot into our time together.
Governor Bruce Rauner Visits DPS109 from Michael Lubelfeld on Vimeo.
The job/role of a superintendent is that of support and advocacy. Support for student education, support for teacher learning and growth, and support for Board governance. In addition, the role/job involves knowing the political landscape insofar as policy and legislation is concerned. This year a coalition of six major state organizations representing superintendents, board members, administrators, principals, business officials, and others joined forces in support of Vision 20/20:

Fulfilling the Promise of Public Education in Illinois. In December I posted on the blog about this Vision and on February 9, 2015, the DPS109 Board of Education joined hundreds of other Illinois School Districts and signed a proclamation in support of Vision 20/20. The Vision 20/20 premise is basically a group of professionals and leaders in the state joining together to state and advocate what we are FOR as opposed to stating what we are against. Some slides from their site are shared below as a graphic example of what this is all about: Highly Effective Teachers, 21st Century Learning, Shared Accountability and Adequate and Equitable Funding.
In addition to the serious tour, talks about renewable energy and policy, the Governor showed his personal side in taking a "selfie" with one of our all star teachers Christian Ball, who asked the Governor if he would take a picture of the "science fist" for his science students!