"Make the most of yourself, for that is all there is for you"
– Ralph Waldo Emerson
In terms of organizational culture, many (Drucker & others) are clear that culture "eats strategy for breakfast". Meaning – focus on culture or you'll have nothing on which to focus! Culture is not just important – it's everything! I write about culture a lot, folks a lot smarter than I (Fullan, Marzano, and others) write and research a lot about culture too! So … if we know how important it is to create it, measure it, build it and sustain it (in education especially) … why are we so "nice" instead of "honest" in the context of leading and managing change?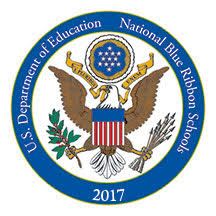 So this year in the Deerfield Public Schools District 109, two more of our six schools earned the highest education award in our nation – the National Blue Ribbon Award. They join two other of our six schools who earned this distinction last year.
In two years four out of our six schools earned the highest honors. Leadership, Culture, Focus, Excellence, and Joy define the experiences for children and adults at these schools. What are the leaders doing with respect to culture at these schools that it making the difference?
Are these leaders confronting brutal questions? Are these leaders acknowledging when good is good and when good is not enough? Are these leaders honestly and respectfully addressing that which needs to be addressed even when it ruffles feathers? "You bet they are!"
In education many of us have been faced with "niceness" and an aversion to "critical review" for whatever reason – we don't know why – "that's the way we have always done it" (TWADDI). In conversations, training workshops, conversations, discussions etc. with school leaders, I have discovered many report that the toughest part of supervision/evaluation/coaching is giving honest, direct feedback. 
Often the "culture of nice" supersedes the "culture of honest". With this post I'm hoping to highlight how the culture of honest impacts the organization in measureable and powerful ways. The culture of honest is pervasive in the Deerfield Public Schools!
If you're reading this blog and you are wondering why your particular organization is not changing or is not making progress – perhaps you should check your culture and communication.
Is everything in our district's culture perfect? – NO – of course not; but we as a matter of leadership assess, measure, and lead with respect to culture and dimensions of culture every year. Our school principals are held accountable for their school's culture. We expect increases in dimensions especially when action plans are centered around growth, acknowledgement and honesty. This year 93.81% of all employees report that they are highly engaged and highly satisfied with their work in our district!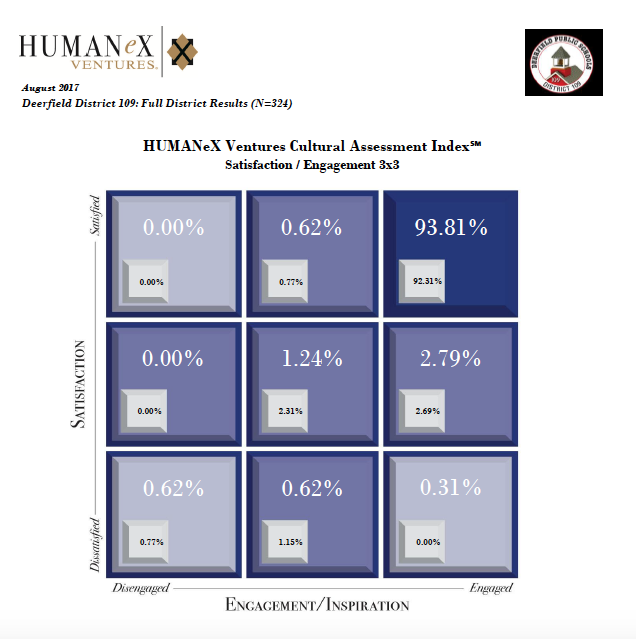 In In 2013 the average "dream box" (top right) score was 61.90% from a database of more than 10,000 education employees in the USA. Our district's "dream box" score in 2013 was 85.75%. See below for a look at the past five years' worth of dream box organizational culture for the Deerfield Public Schools: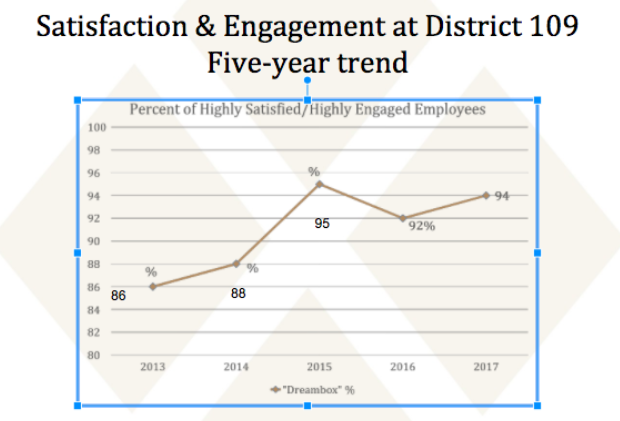 In our district we are far from perfect – highly successful but never satisfied!
We are on a journey toward excellence with a focus on continuous improvement. Over the past two years we have had a failure in the execution of middle school standards based learning. There are a number of reasons for this. One of the reasons was the "culture of nice" superseding the culture of honesty; and our deliberate decisions to "compromise" in the spirit of cooperation (compromise with the best of intentions – but it was really appeasement).
Students of history remember what happened when Neville Chamberlain appeased Adolph Hitler … well – appeasement doesn't work so well in leadership …

honesty and courage work. Granted I'm oversimplifying a really complex and life and death time in history with the day to day leadership of a school system … you get the point.
Strong, direct, honest, dignified, respectful conversations and coaching are required – are imperative – are expected – are to become the norm when success is desired. With honest, direct, clear communication people know what the shared vision is – what the direction is and to what they'll be held accountable. The three goals shown above reflect the current strategic goals in our district; clear, concise, coherent.
Five years ago the principals in our district began a process of becoming honest and clear culture leaders. They started to address student growth, teacher performance, stretch goals, limitless opportunities for ALL as well as innovative, future focused leadership. As a result, we have four of our six schools honored with the nation's highest educational honor, we have administrators with regional honors, and we have shared the DPS109 story around the USA. Is it easy to lead in a culture of honesty? No – but I don't go to work for an easy time … I go to work for a meaningful, impactful time!
---
I would love to hear your thoughts about culture – "nice vs honest" and leadership overall! If your leaders are too focused on management and not on leadership – excellence will be out of reach! Those who can manage and lead with courage, power, honesty, and in line with the shared vision – those leaders will be successful!