"Humility is not thinking less of yourself. It's thinking of yourself less."
– C.S. Lewis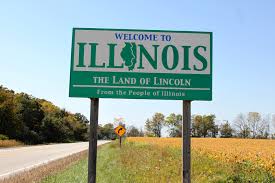 In our school district we take pride in the words and actions ENGAGE, INSPIRE, EMPOWER. We aim to do this each and every day with and for each and every student, staff member, and the community! Since July 2013 our Big 5 have been driving our actions and initiatives:
Common Core State Standards (a/k/a Illinois New Learning Standards), Next Generation Science Standards
Teacher Evaluation – Charlotte Danielson Frameworks for Effective Teaching
Technology
Organizational Culture
Superintendent's Task Force for Middle Level Education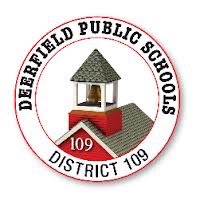 We often write about innovation and we often share examples of the teacher's innovative practices in blogs, Twitter, Facebook, principal newsletters, emails from the district, in person events, etc. Today I'm writing to celebrate an innovative project experience from 7th grade English Language Arts. In the 7th grade ELA class this year the students had to complete a project entitled:  Change the World. One of our students sent a letter to the Illinois Department of Homeland Security. The boy's letter was so impressive to the staff that the Deputy Director, James Joseph, called principal, Dr. John Filippi, and he shared his delight at the letter. In addition he offered to come visit the student and his classmates!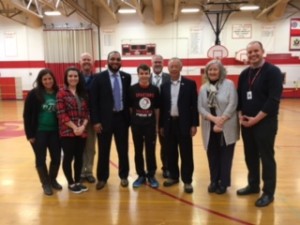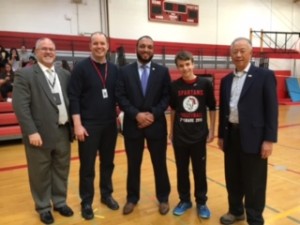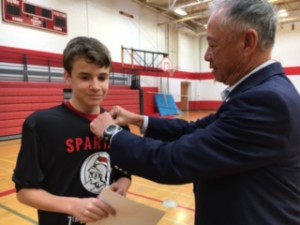 Today Mr. James Joseph, the Director of the Illinois Emergency Management Agency (IEMA) and Deputy Homeland Security Advisor came to Alan B. Shepard Middle School and visited with the student, his classmates and teachers.
In addition he made a brief presentation and answered questions from the students. In the pictures shown to the left we also show another special guest, retired Major General Robert G.F. "Bob" Lee. Gen. Lee was visiting the Governor's office and it fit into his schedule to join Director Joseph. Gen. Lee shared information about his fascinating service to our country as well as to his home state of Hawaii. Security is a national concern and it's nice to know we have such able, knowledgeable, talented and able leaders helping defend our nation and our state.
The power of a letter, the power of a communication, the power of an inquisitive student can lead to the highest levels of government, society, agencies, companies, etc. Our amazing teachers are taking learning to new levels with engagement, inspiring lessons and empowerment of students to reach out to "real people" in the world who do the work about which we are learning!
Check the podcast for a 5 minute excerpt of today's visit:
In Deerfield we truly believe, and we teach our students, that, in the words of Margaret Mead:
Never doubt that a small group of thoughtful, committed citizens can change the world; indeed, it's the only thing that ever has.
Our students, through agency and voice, are learning that they matter not only in school and at home, but as part of the larger world. It's wonderful, especially as a public school leader, to show the power of
education and the value of our innovative public education in terms of meaning and relevance.
We are grateful to General Lee, Director Joseph, as well as other dignitaries who have visited our schools like Governor Bruce Rauner, U.S. Congressman Hon. Robert Dold, Illinois Senator Hon. Julie Morrison, Illinois Representative Hon. Scott Drury, Lake County Regional Superintendent of Schools Hon. Roycealee Wood, Deerfield Mayor Hon. Harriet Rosenthal, and many others who visit to engage with students, learn from our teachers, interact with our world class facilities, and in one way or another, show support for meaningful, effective public education!